Place of boarding in Chop, UA
The place of boarding in Chop, UA – 1, Privokzalna St., the right parking on the square opposite the LOCAL railway station. The GPS coordinate: 48.432003, 22.205165. On the parking place, please wait the comfortable coach with label "Uzhgorod-Budapest" on the windscreen.
The departure time is 09:30 (a.m.), but if you arrival to Chop by train #13 in 9:23 (a.m.) we will wait for you 10-15 minutes, please do not delay. From the platform to the place of boarding 3 munutes for a wolk. 
If the train will delay, please check the time of delay to conductor and contact us in advance (for example from station Perechyn). If delaying more than 15 minutes we will wait you depending from the others passenges interconnections (transfers).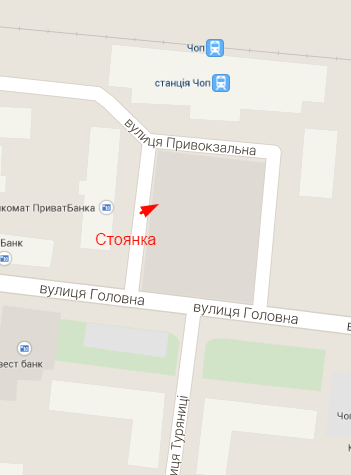 On the reverse direction Budapest- Nyiregyhaza-Chop-Uzhgorod the approximately time of arrival to Chop is 18:10 (p.m.). The passengers who travel to the direction of Lvov and Kiev can go by the following trains:
-train №107 Uzhgorod-Lvov-Odessa, with departure time from Uzhgorod 20:15;
-train №13 Solotvino-Lvov-Kiev, with departure time from Chop 20:56 and from Uzhgorod 21:26;
-train №29 Uzhgorod-Lvov-Kiev, with departure time from Uzhgorod 22:03;
-train №601 Solotvino-Lvov, with departure time from Chop 23:06 and from Uzhgorod 23:51.
The changing in the trains timetables are possible. Please check the actual timetables on the site of "Ukrzaliznytsia".
In the current section and everywhere on the web-site indicated the Central European time on the territory of Hungary and Austria and Kiev-time on the territory of Ukraine. The delay is possible during the crossing of the border as in Budapest direction as in Chop-Uzhgorod direction, also. Due to the above, our company can not guarantee the 100% keeping of the timetable. Please, take into account this information during planning of your trip and others transfers.
Leave a request and our manager will contact you